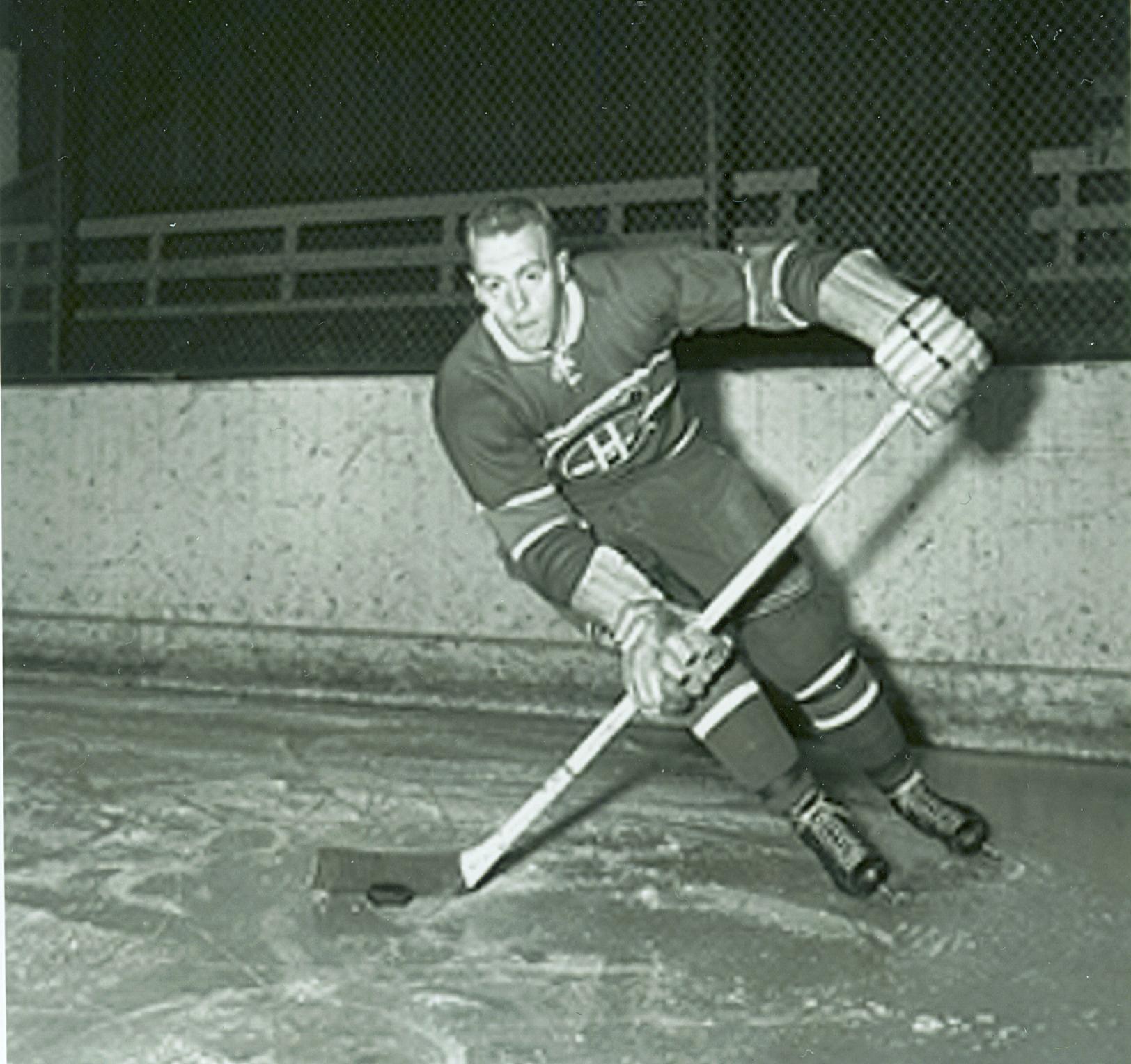 Léo Gravelle
June 10th, 1925 - October 30th, 2013
Leo passed away on October 30th, 2013. His wife, Yolande followed him on December 24th 2014.
This site was setup by Léo's son Denys. With time, the English version will be fully available. In the meantime, we will be concentrating in adding pictures, newspaper articles and stories told by Léo and his friends and family members.
Born in Aylmer Quebec on June 10th 1925, Leo grew up with his sister Marie-Reine and his brother Réal. All three of them were outstanding hockey players. His father, Gédéon Gravelle, worked at the Gatineau Mills paper mill. After his mother died when Léo was 17, he went to work as a strawberry picker, in Port Colbourne Ontario, for 35 cents a day.
His career
In 1942-1943 he played for the Port Colbourne Sailors of the OHA-B league and in 1943-1944 for the Brantford Lions. In the Fall of 1944 he was invited to join the Toronto Saint-Michaels team in Ontario Junior League. He became the best scorer of the league that year with 30 goals and, to complete this wonderful year, his team won the Memorial Cup, the crown of Junior Hockey in Canada.
In September 1945 Léo was invited to join the Montréal Royals of the Quebec Senior Hockey League to graduate a year later with the Montreal Canadians team.
In 1946-1947 in his rookie year he scored 16 goals playing with Buddy O'Connor and George Allen.
One of the fastess skater of the 1940's he was called « The Gazelle ». Maurice Richard and Gordie Howe said of him that he was the fastest skater they had ever seen.
In 1949-1950, teamed up with Howard "Rip" Riopelle and Billy Reay, Léo was one of the best players of his team in the Montreal Canadians' loss in the Semi-Finals against the Detroit Red Wings.
During the 1950-1951 season, the Canadians traded Léo to the Detroit Red Wings for Bert Olmstead. Léo completed that season by travelling between Detroit and the Indianapolis Capitals of the AHL.
The veteran right winger retired in 1956 after five prolific scoring seasons in the Quebec Senior Hockey League. In 1953-1954 he dominated the league by scoring 45 goals with the Ottawa Senators and was named on the first All-Star Team.
Watch a video from the middle of the 1940's where Léo appears: VIDEO
After-hockey
Near the end of his hockey career, Léo had started a career in the Hotel Business. He first purchased the "Hôtel sur le Lac" in St-Pierre de Wakefield, with his brother-in-law Wilfrid Simonson. They sold that Hotel in 1961 and Léo purchased a new Hotel in Bouchette (100 km north of Ottawa) and called it "Hôtel Le Canadien". Léo kept this Hotel for approximately five years before recycling in Sales.
Léo and Yolande lived in the village of Bouchette during 43 ans. In 2004, they sold their house and moved to Gatineau.
On February 27th 2009, Léo and his good friend Howard Riopelle, together with Tony Licari, Larry Reagan and Lude Check were honored by a group of Ottawa Fans.

---
Monday Morning
Weekly News from Mercyhurst College
May 14th 2007:
Assistant women's hockey coach Sara Simard returned to her hometown of Aylmer, Ontario, recently to accept the Leo Gravelle Award, named for Aylmer's hometown hero who played more than 200 games in the National Hockey League in the '40s and '50s. The award is given annually by the Aylmer Hockey Association (AHA) to an alum who has distinguished himself/herself in hockey since leaving the association.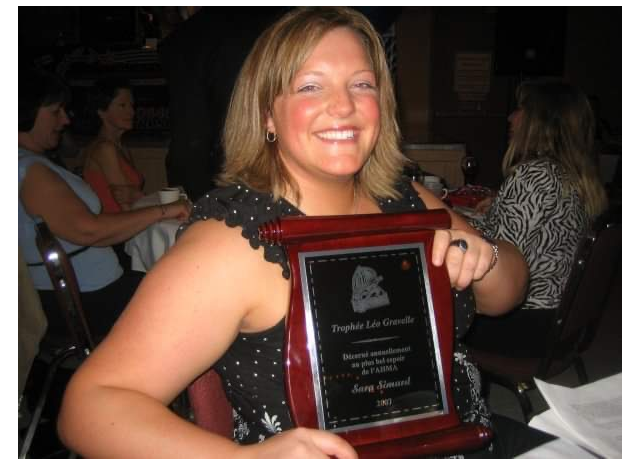 ---
Pictures of the February 27th 2009 event
Ottawa Citizen Article November 4 2013
Aylmer native cherished yearts with Canadiens